REAR PROTECTION PACK - FITS 2020+ DEFENDER 110
Defender 110 Rear Protection Pack contains -  1 x Rear Bumper Protector 1 x Defender 110 Rear Trunk/Boot Mat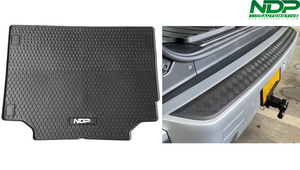 Defender 110 Rear Protection Pack contains - 
1 x Rear Bumper Protector
1 x Defender 110 Rear Trunk/Boot Mat
Excellent customer service
UK to New Zealand with a nice personalised delivery note in 10 days. Great customer service! Thanks
Rear Protection Pack
I ordered the parts on Friday and they arrived on Monday. Absolutely excellent service.
They appear to be of excellent quality, however, I can't put them in the car as it is still on its way to the UK!! I ordered them early as the price was to good to miss.
Rear protection pack
Excellent service from start to finish. Great products, easy to fit and complements our new Defender 110. Definitely a company watch as it develops new products for the new Land Rover Defender 90, 110 and soon to be 130.
Both essential
Got both of these, the boot mat stops things sliding around in the hard factory deck, the bumper protector looks just right and does a great job