CHEQUER PLATE DOOR SHUT PROTECTOR - FITS DEFENDER 90 2020+
Stop your gritty shoes and muddy work boots scratching the paint on the way in to and out of your Defender.  Fits Defender 90 (2 pieces) Made from tough ABS plastic Simple peel and stick install Isopropyl prep wipes included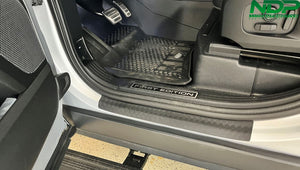 Stop your gritty shoes and muddy work boots scratching the paint on the way in to and out of your Defender. 
Fits Defender 90 (2 pieces)
Made from tough ABS plastic
Simple peel and stick install
Isopropyl prep wipes included 
Best service ever👌
Chris made a super effort to make sure that I was happy with my new tools 👍😀
Can 100% recommend
Great Product
Looks and fits like an OEM. Love the protection this product gives.